From the Doomsday Book to 2004 Leigham Manor has changed from being one of the original Plymouth Manors to being an exclusive housing development of 41 luxury properties on the edge of Plymouth surrounded by National Trust and Woodland Trust land and bordered by the River Plym leading down from the heart of Dartmoor.

In the late Summer of 1946 Plymouth City Council bought the Leigham Manor Estate as part of its redevelopment plan for the City at the end of the Second World War. The Estate was to be divided up over the next 40 years for a mixture of industrial, housing and recreational use.

The final part of this long term development was started in 1988 when Manor Park began its life. The development was finally finished in 1995 and is now recognised as one of the best private estates in the Plymouth area and is much sought after, with houses of excellent size and quality, making ideal family homes. Click on the picture below for a larger image of the Manor Park development.

The Manor House itself by this time had become derelict and was reduced to a pile of rubble. A far cry from the early days after the war. Look at this photograph taken in 1947 when the house was used as a retreat for a Church (possibly Adventist) retreat. If anyone knows anyone in this picture I would be very pleased to hear from them as they may hold valuable historical information on the last years of this ancient Manor House.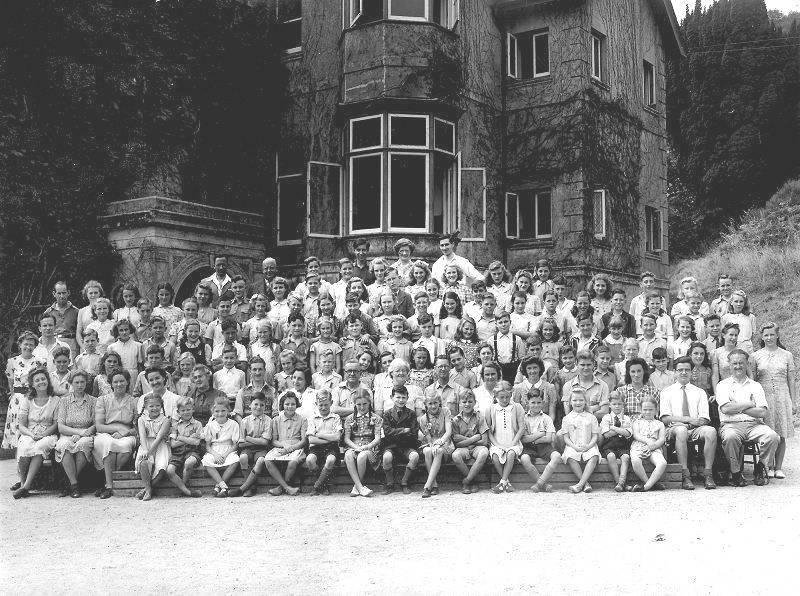 Names may be as follows: Junior Camp, Leigham Manor, Devon. All left to right, from the back to the front.
8th row: Norman Tew, May Dando (Benefield), Victor Benefield.
7th row: Pastor Paul Cumings, Mr Parry, Leona Minchin, Valmae Minchin, E Haynes, B Palmer, W Caley, A Millest.
6th row: Charlie Tew, Pat Gatland, P Lane, B Seeley, W Hesse, R Kinnersley, D Bevan, J Bonney, .., D Cook, ? Foskett, H Ginbey, R Benton, D Krause, N Gulley.
5th row: ? Vesey, P Bone, .. E Bartter, C Phillips, .., G Sweet, D Gough, R Chandler, R Aikenhead, .. , Valerie Cook, .. , M Palmer.
4th row: Margaret Rosier, Ken Rosier, .. , M Barham, B Shaw, .. , M Coombe, Ann Westley, .. , Sonia Bevan, .. , R Vesey, P Uffindell, P Bonney, .. , Brian Lemin, .. , T Proudley.
3rd row: .. , Susan Cooke, Alan Thompson, .. , B Gulley, .. , S Uffindell, C Vesey, .. , John Rich, G Willoughby, Rex Riches, M Rich, .. , Mary Sanders (later Blackburn), Margaret Sanders (later Lowe).
2nd row: Connie Richards, .. , Mrs Catts, Mrs Welch, Ken Gammon, Mrs Tew, H T Johnson (SEC Youth Director), Mrs Johnson, C T Bannister, Mrs Bannister, M Liney, John Cavin, Joyce Needham, John Bevan, A C Vine.
Front row: .. , V Watson, .. , J Youlden, .. , O Ashman, Robin Riches, Wendy Stokes, Paul Bonney, C Catts, Mark Cummings, ..
Others: Connie Target?, Muriel Christiensen, Kevin Minchin?, Rita Newell.
Click on the pictures above for a larger image, or contact peter@manorpark.plus.com if you would like a higher resolution version.
(thanks to J. Eaton, R. Emmerson & S. Johnson for the photos)
This website is privately run, owned and © P J Clarke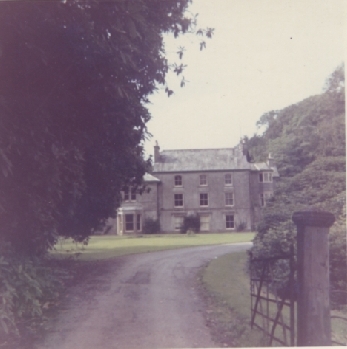 Photo of the Manor taken in the 1970s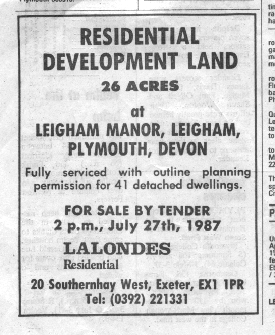 The end of an era: The final sale of the land prior to the development of Manor Park, a luxury development of 41 executive homes.
(many thanks to Mrs M Selley for the photos above and for other archive material)